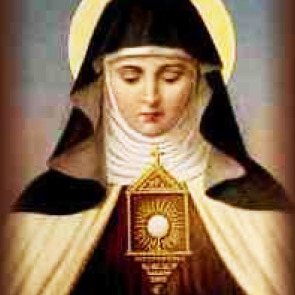 Viewed by:
14760
visitors.
Published in: Central Independent Newspapers.
Published from: July 30, 2010.
I am praying very much this year to win the green card Lottery and for my finances to improve.I know and trust in the prayers of St.Clare.She has listened and prayed for me in the past.Even now I know I will be publishing the success of my prayers very soon.I cant wait to see the glory of the Lord through the prayers of St.Clare.
Left by

Elizabeth

:

17/10/2020
Thanking st Clare for favours received. Published on 9 th day.
Left by

Angela

:

08/10/2020
Publishing my novena to St Clare and to St Therese - please answer my prayer
Left by

Jill

:

23/09/2020

Left by
Helen
:
10/09/2020
Publishing my novena on 9th day, please answer my prayers St Clare. Ask St Clare for three favors, one business, two impossible, and say nine Hail Mary's and the following prayer for nine days with a lighted candle. PRAYER: May the sacred heart of Jesus be praised, adored, glorified and loved today and every day throughout the world forever. Amen.
Left by

Helen

:

10/09/2020