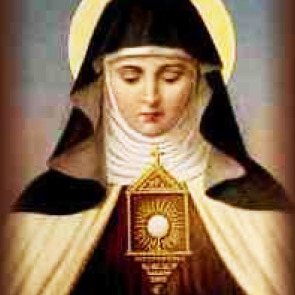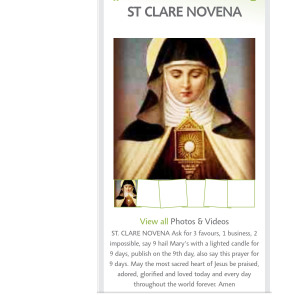 Viewed by:
39306
visitors.
Published in: Central Independent Newspapers.
Published from: July 30, 2010.
Thank you St Clare for the 1st impossible favour being granted.
Thank you St. Clare for favours granted, always grateful
Thank you St Clare for helping me and hearing my prayers in the past please hear my prayers again I don't know what to do please hear my prayers Pray whether you believe or not and promise to publish or circulate. Ask for 3 favours: 1 business and 2 impossible. Say 9 Hail Marys and the following prayer for 9 nights in front of a lighted candle: God of mercy you inspired St. Claire w/ the love of poverty by the help of her prayers. May we follow Christ in poverty of spirit and come to the joyful vision of your glory in the kingdom of heaven. We ask this through our Lord Jesus Christ your son who lives and reigns with the Holy Spirit, One God forever and ever. Amen
Left by

Anonymous

:

31/07/2022
Thank you St Clare for listen to me. St Clare Novena. Ask for 3 favors; 1 business, and 2 impossible. Say 9 Hail Mary's with a lighted candle for 9 days. Publish on the 9th day. Also say this prayer for 9 days. May the most sacred heart of Jesus be praised, adored, glorified and loved today and every day throughout the world forever. James L
Thank you for hearing my prayer and hearing my request.
Left by

Sinead

:

01/06/2022